O'HARA,
manufacturer and creator
of designer mobile homes.
O'HARA is blazing the trail for the campsites of tomorrow. We draw inspiration from the hospitality, design and fashion industries. Emerging trends from the luxury tourism world show that holidaymakers are seeking experiences and wellbeing. Excess and extravagance are no longer considered luxuries. In an age of intense media coverage and social media, the need for intimacy and authenticity is shaking up the sector.
In 2023, O'HARA is completely revolutionising the campsite scene.
Here is our unique, chic and ground-breaking approach to campsite life.
This year, more than ever, O'HARA is giving you a closer look at its ethos, which goes beyond the trends of leisure living.
Trends and innovation
mobile home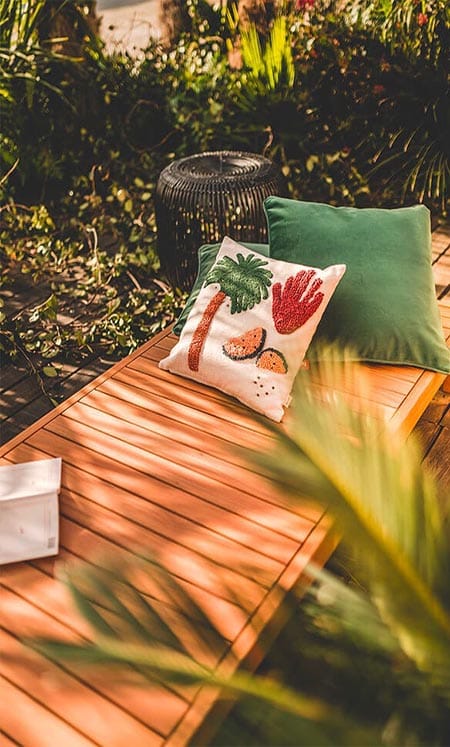 Holiday park professionals, imagine your visitors feasting their eyes on these interiors, drawing back the bay window curtain at the rear, marvelling at the lush surroundings - a hidden gem to retreat to. Garden Side is all about finding tranquillity, feeling at home, and spending precious moments with family and friends in your mobile homes.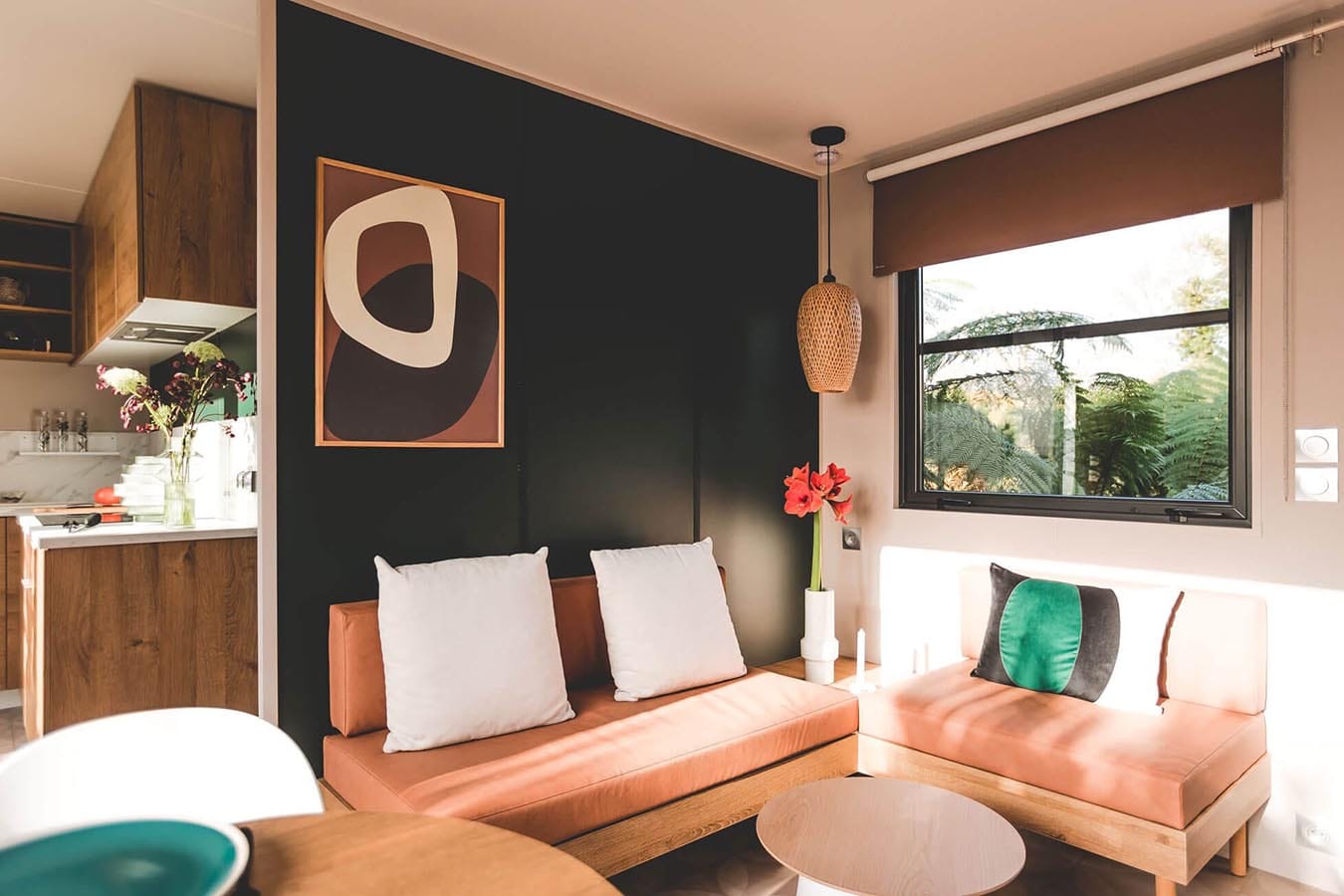 O'HARA is pushing the boundaries with a style that is completely ground-breaking in the world of mobile homes. Refined shapes and materials are intelligently manipulated to create a fantasy-filled ambience celebrating nature. The Art deco meets Jungle theme invites you to take time to sit back and relax.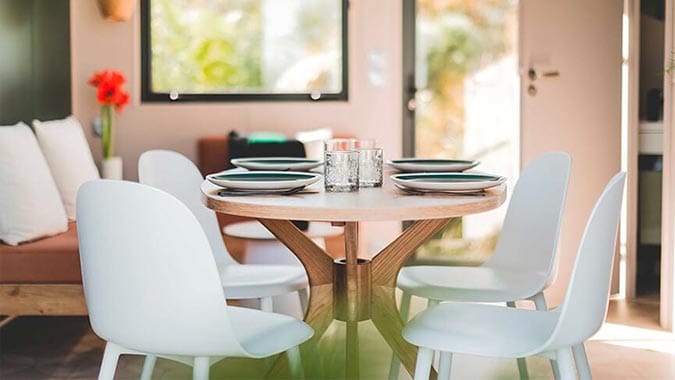 Our mobile homes are equipped with high-end fittings. The alluring combination of mineral and gilded wood materials, alongside strong lines, create an appealing ambience.
MEDITERRANEA TRADE FAIR 2022
Visit O'Hara at the Mediterranea Trade Fair in Grau du Roi!
SALON EQUIP'HPA - LE TOUQUET
Retrouvez O'Hara au Salon ÉQUIP'HPA du Touquet (62), Salle des Quatre Saisons.
Let's imagine
the campsite of tomorrow
Communication and authenticity have been at the heart of our relationship with our campsite clients and distributors for more than 25 years. Over the years, our manufacturing culture, which remains focused on product excellence, has evolved into the broader aim of creating a positive customer experience.
From buying to resale, from the campsite to the mobile home owner, we are the partner who can ensure things run smoothly in the market to create accommodation solutions and services that go above and beyond in responding to people's needs.
Our Key West capsule brand, sometimes referred to as bungalows, is paving the way for premium campsite accommodation: Key West 1 bedroom, 2 bedroom and 3 bedroom.
The O'HARA range offers a different high-end product and an intimate space at the rear of its models, known as Garden Side: 844 2 bed, 884 3 bed and 1064 3 bed 2 bathrooms.
"Let's imagine the campsite of tomorrow" is an endless source of ideas to share, involving both the accommodation and the environment.
O'Hara propose un panel de 20 coloris de bardages à choisir pour une intégration paysagère 100% réussie. Coup de cœur de la saison : le revêtement "Bois Brut" qui rappelle les cabanes de bord de mer ! Le bois reste l'inspiration de départ pour O'Hara.

Retrouvez nos simulateurs en suivant le lien dans la bio
#ohara #mobilhome #camping #hpa #design
Entre deux constellations, O'Hara vous souhaite un bel été… ! Ce week-end, levez les yeux au ciel et retrouvez votre âme d'enfant lors de la 32ème édition de la Nuit des Etoiles, du 5 au 12 août 2022… Surtout, n'oubliez-pas de faire un vœu !
#mobilhome #ohara #camping
C'est en 2020 qu'O'HARA a lancé son concept Côté Jardin, proposant une implantation traversante inédite dans l'univers des hébergements de plein air. Deux ans plus tard, cette innovation est devenue une tendance ! On l'adore toujours autant.

Redécouvrez le concept côté jardin en suivant le lien dans la bio

#ohara #innovation #mobilhome #fnhpa #camping
Un seul mot d'ordre cet été… profiter ! A deux pas de chez soi, aux quatre coins de la France, de plus en plus de campings se singularisent en proposant des expériences immersives, bienveillantes et surprenantes. Pas besoin de partir à l'autre bout du monde pour vivre pleinement les vacances.

bel été !
#mobilhome #camping #hpa #design #vacances #summervibes
Etes-vous prêts ? Le grand week-end du 14 juillet approche ! L'occasion de prendre du temps pour soi en alternant doigts de pied en éventail avec un bon bouquin, piscine et ballades toute la journée. Le rêve.

Découvrez la collection O'Hara 2023 en suivant le lien dans la bio
#camping #mobilhome #fnhpa #mobilhome
Expériences bienveillantes pour campeurs du moment. O'Hara soutient les campings engagés dans cette transformation, à travers une offre d'hébergements respectueuse de l'environnement et du bienêtre de ses hôtes. Découvrez notre rencontre avec Lionel Flasseur, en charge du tourisme Auvergne-Rhône-Alpes. Une région qui, depuis 2018, a redéfini ses priorités, en matière de tourisme, et adopté une démarche inédite sur le territoire.

Suivez le lien vers notre site dans la bio

#tourisme #bienveillant #auvergnerhonealpes #camping #glamping #ecotourisme
Owning a mobile home
Building a mobile home in a private garden or land is prohibited. It is considered light recreational accommodation, which is not recognised by law. A mobile home is a 20-40m2 building without foundations or frames attaching it to the ground. However, a mobile home can be built on private land if the land is suitable and the local council grants permission (for properties of less than 40m2). Many local councils are currently rejecting this type of permission.
According to Article R111-41 of the Town Planning Code, mobile homes are considered recreational mobile residences. They are designed for occasional seasonal use. They must not be attached to the ground and must be able to be removed quickly.
It is very rare for campsites to be open all year round. If you hire a plot for a mobile home all year round, you will not be allowed to make it your main residence and live there for the whole year. If you buy a plot in a residential leisure park, such as a campsite, you will need to have a main residence elsewhere.
Article R111-42 of the Town Planning Code allows you to install your mobile home on campsites, holiday parks and residential parks.
As a general rule, mobile homes are replaced every 15 to 20 years. However, depending on what maintenance has been carried out, a mobile home can easily last up to 30 years.
To buy a new or second-hand recreational residence or mobile home, you have a choice of sellers.
Dealers or distributors of mobile home manufacturers offer genuine expertise and will provide you with turnkey solutions (model, delivery, installation and financing). Some campsites and holiday parks resell new or second-hand mobile homes from their campsite plots directly. Private individuals can buy from private sellers via classified ad sites.