O'HARA,
manufacturer and creator
of designer mobile homes.
O'HARA is blazing the trail for the campsites of tomorrow. We draw inspiration from the hospitality, design and fashion industries. Emerging trends from the luxury tourism world show that holidaymakers are seeking experiences and wellbeing. Excess and extravagance are no longer considered luxuries. In an age of intense media coverage and social media, the need for intimacy and authenticity is shaking up the sector.
In 2022, O'HARA is completely revolutionising the campsite scene.
Here is our unique, chic and ground-breaking approach to campsite life.
This year, more than ever, O'HARA is giving you a closer look at its ethos, which goes beyond the trends of leisure living.
Trends and innovation
mobile home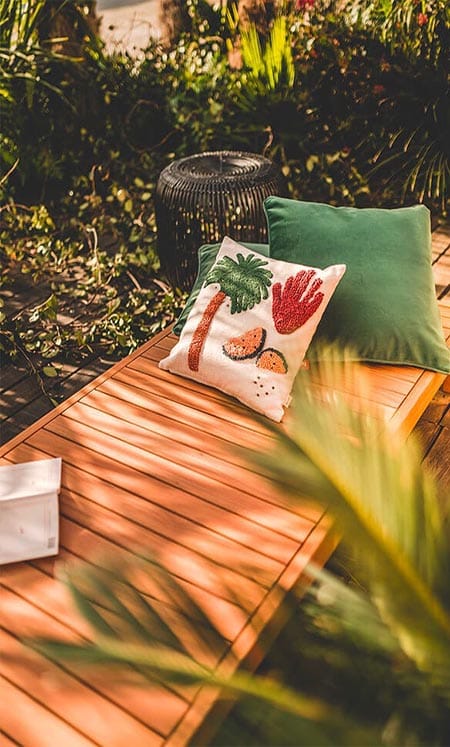 Holiday park professionals, imagine your visitors feasting their eyes on these interiors, drawing back the bay window curtain at the rear, marvelling at the lush surroundings - a hidden gem to retreat to. Garden Side is all about finding tranquillity, feeling at home, and spending precious moments with family and friends in your mobile homes.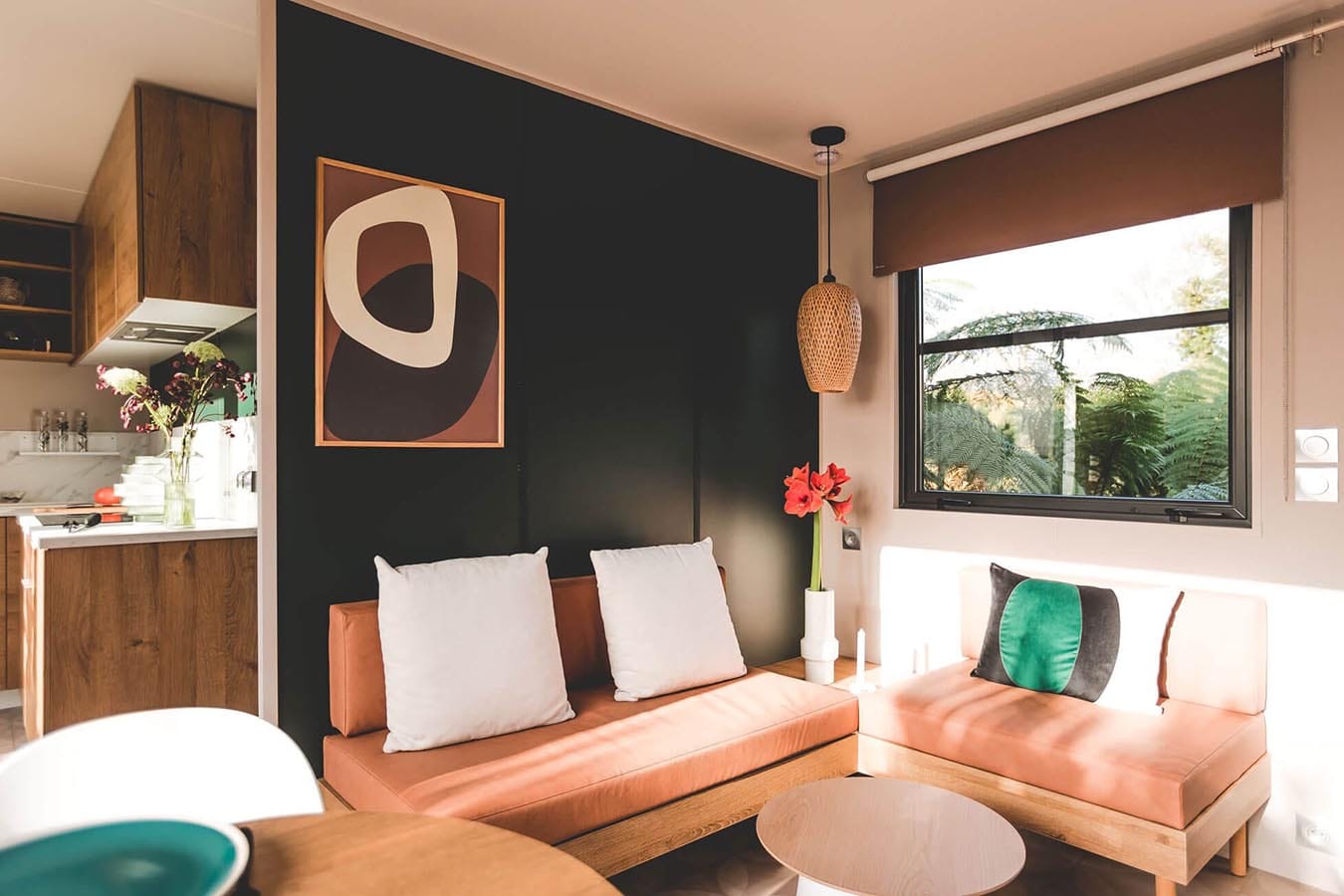 O'HARA is pushing the boundaries with a style that is completely ground-breaking in the world of mobile homes. Refined shapes and materials are intelligently manipulated to create a fantasy-filled ambience celebrating nature. The Art deco meets Jungle theme invites you to take time to sit back and relax.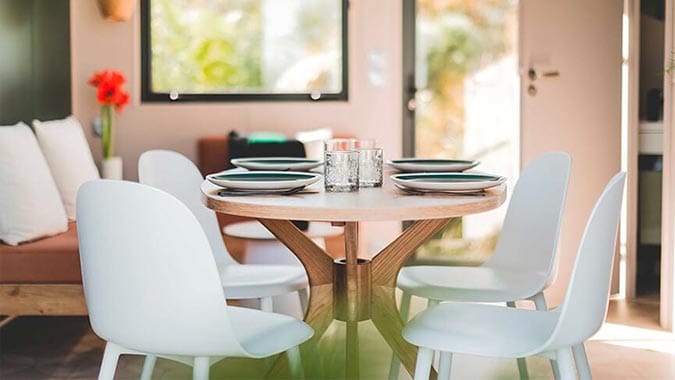 Our mobile homes are equipped with high-end fittings. The alluring combination of mineral and gilded wood materials, alongside strong lines, create an appealing ambience.
SALON EQUIP'HPA - LE TOUQUET
Retrouvez O'Hara au Salon ÉQUIP'HPA du Touquet (62), Salle des Quatre Saisons.
Let's imagine
the campsite of tomorrow
Communication and authenticity have been at the heart of our relationship with our campsite clients and distributors for more than 25 years. Over the years, our manufacturing culture, which remains focused on product excellence, has evolved into the broader aim of creating a positive customer experience.
From buying to resale, from the campsite to the mobile home owner, we are the partner who can ensure things run smoothly in the market to create accommodation solutions and services that go above and beyond in responding to people's needs.
Our Key West capsule brand, sometimes referred to as bungalows, is paving the way for premium campsite accommodation: Key West 1 bedroom, 2 bedroom and 3 bedroom.
The O'HARA range offers a different high-end product and an intimate space at the rear of its models, known as Garden Side: 844 2 bed, 884 3 bed and 1064 3 bed 2 bathrooms.
"Let's imagine the campsite of tomorrow" is an endless source of ideas to share, involving both the accommodation and the environment.
Living
Capacité : 4 personnes
Surface : 28m² + 7.80m² de terrasse intégrée
Dimensions : 9,55 x 4,20 m

#living #mobilhome #design #minimal #2022 #artdecostyle
LIVING Confidences ! Design sobre et élégant, pièce de vie ultra lumineuse grâce à une grande baie vitrée, le Living est idéal pour équiper les parcelles avec vue !
🍃Retrouvez le Living sur notre site internet en cliquant sur le lien dans la bio !
#ohara #design #mobilhome #camping
LIVING Confidences ! L'ensemble fenêtre-bar de notre Living sera l'allier des plus belles soirées d'été !

#ohara #mobilhome #hpa #camping #design #minimal #windowview
Toute l'équipe vous attend dès demain sur son stand B2 A40 au Salon Sett - Montpellier ! Entrez dans la confidence...

Habillé du bardage "Petits Tasseaux" le Living s'intègre parfaitement à son environnement. Plongeon dans la jungle tropicale !
#hpa #camping #mobilhome #design
LIVING Confidences ! Une cuisine design et épurée où le bois blond des placards se voit sublimé par le plan de travail ultra chic effet marbre ! Elégant flirt entre nature et design... on aime !
°
#ohara #mobilhome #hpa #camping #design #interiordesign #minimaldesign #artdecostyle
LIVING Confidences ! 🍃Entrez un instant dans sa pièce de vie ultra lumineuse grâce sa large baie triple ventail ! Et retrouvez l'univers de la nouvelle collection O'Hara 2022 lors du Salon Sett - Montpellier du 2 au 4 novembre 2021 !
#ohara #hpa #fnhpa #mobilhome #camping
Owning a mobile home
Building a mobile home in a private garden or land is prohibited. It is considered light recreational accommodation, which is not recognised by law. A mobile home is a 20-40m2 building without foundations or frames attaching it to the ground. However, a mobile home can be built on private land if the land is suitable and the local council grants permission (for properties of less than 40m2). Many local councils are currently rejecting this type of permission.
According to Article R111-41 of the Town Planning Code, mobile homes are considered recreational mobile residences. They are designed for occasional seasonal use. They must not be attached to the ground and must be able to be removed quickly.
It is very rare for campsites to be open all year round. If you hire a plot for a mobile home all year round, you will not be allowed to make it your main residence and live there for the whole year. If you buy a plot in a residential leisure park, such as a campsite, you will need to have a main residence elsewhere.
Article R111-42 of the Town Planning Code allows you to install your mobile home on campsites, holiday parks and residential parks.
As a general rule, mobile homes are replaced every 15 to 20 years. However, depending on what maintenance has been carried out, a mobile home can easily last up to 30 years.
To buy a new or second-hand recreational residence or mobile home, you have a choice of sellers.
Dealers or distributors of mobile home manufacturers offer genuine expertise and will provide you with turnkey solutions (model, delivery, installation and financing). Some campsites and holiday parks resell new or second-hand mobile homes from their campsite plots directly. Private individuals can buy from private sellers via classified ad sites.